They're back - taking advantage, like the seagulls, of black dustbin bags full of tasty bits and pieces, left out in the street overnight.
They're back, braver and bolder than ever and have been seen pretending to be asleep on the top of shed roofs, in the middle of the day.
Take care, don't leave your rabbits, hens or guinea pigs running loose and unattended and check that the wire on their hutches is firmly fixed. Also make sure your rubbish is in bins, so it doesn't get strewn all over the pavement.
Watch out -there's a fox about all day as well as all night.
by Vivien Eliades
(Richmond Road 2006)
The return of the fox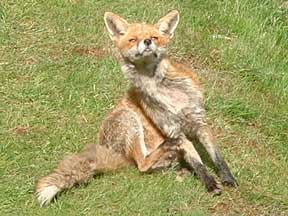 In spite of the noise generated by Veolia and Cityclean, the railway corridor separating Hollingdean Depot from Princes Road still provides an important haven for wildlife.
Unlike Network Rail's tree surgeons, Brighton and Hove City Council also recognises the 'coastways railway boundary' of the Round Hill conservation area as
a designated greenway
.
Reason 5 for refusing Carelet's recent development proposal was that
it would result in the loss of an area of habitat that potentially could currently be supporting slow-worm and other species and is within a designated Greenway
.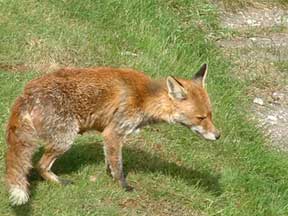 This tame fox cub left the railway corridor to take a good look around my garden on Easter Saturday. Residents in Princes Road often see foxes sunning themselves on their lawns. This one was in no hurry to leave and did not mind posing for photographs.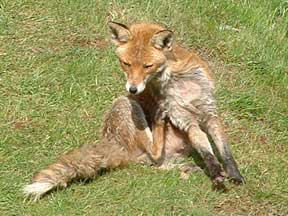 I mailed my 21st Century Fox pictures to two friends. My American friend thought that my visitor was more like a cat than a fox. My German friend told me that it looked like her dog.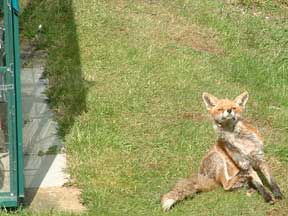 I'm not tempted to make this the subject of a web poll, though more items on wildlife would be appreciated on this site. Wildlife anecdotes usually generate a good response on the Round Hill Yahoo Web Group - is this a British thing about animals or is it particular to residents in our conservation area?
Round Hill residents with any wildlife anecdotes (supported by low resolution photos) to offer this site, please get in touch.
by Ted Power
(Princes Road 2007)