Heritage Open Days
See pictures of this event on flickr.
A self-guided walk past several exhibition panels of local history created by residents is available throughout the HOD period. PLUS - There will also be a guided tour on each of the four weekend mornings (booking essential). The location is entirely on the streets of Round Hill, but it is on a hill, and part of the guided tour is down a flight of 120 steps.
Food and Water, Fuel and Waste – Round Hill has had it all!
In the early days of Brighton, Round Hill was a wheat field outside the town, as building moved into the countryside the wheat field went, but market gardens and glasshouses appeared with the new housing. We also gained a windmill at the top of Round Hill. Laundries both large and small sprang up on the hill, but there was a conflict with both domestic coal burning and the nearby 'dust destructor' (an early incinerator). Housing brought corner shops, often meeting the needs of relatively poor households. There was an early water pumping station nearby, and a small gasworks, and later the town's abattoir. Today we retain a waste connection with both the refuse transfer station and the recycling sorting plant adjacent.
Event Times
Saturday 11 September 2021: Guided Tour: 10:00 - 11:30
Sunday 12 September 2021: Guided Tour: 10:00 - 11:30
Saturday 18 September 2021: Guided Tour: 10:00 - 11:30
Sunday 19 September 2021: Guided Tour: 10:00 - 11:30
2020 Event
This household is one of the semi-detached villas in Richmond Rd
Click on the picture below to enlarge.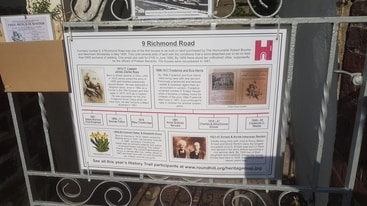 Above is a beautifully designed display prepared by a Round Hill householder as part of last year's Heritage Open Door Days - a self guided tour of parts of Round Hill to discover an eclectic collection of local history. It presents a timeline of previous occupants looking at four sets of them in some detail. Among the four is Colonel Heber Drury (see his Wikipedia entry). The longest occupants (1921-47) were Ernest and Annie Renton.
Local history enthusiasts: click here for Free Cen records (1891 & 1871) of Round Hill households (including the villas).