Review the adopted
Masterplan
for the London Road shopping area.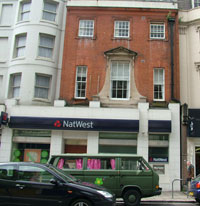 Click on

the numbered links

to research the history of buildings in the London Road area of Brighton
Below is a numbered list of buildings in London Road (as of 2009). Where the number appears in blue, there is an active link to a annotated photograph of the building (as it once looked) taken from the
James Gray Collection
. Click on it to find out about the history of the building &/or site.
London Road, Brighton (west side)
here is

Cheapside
001
Aldi BN1 4JA
002
Aldi BN1 4JA
003
Aldi BN1 4JA
004
Aldi BN1 4JA
005
Unit 1 Iceland Foods Ltd BN1 4JA
006 Unit 1 Iceland Foods Ltd BN1 4JA
007 Unit 1 Iceland Foods Ltd BN1 4JA
008 Unit 1 Iceland Foods Ltd BN1 4JA
005
Unit 2 Peacocks Stores PLC BN1 4JA
006 Unit 2 Peacocks Stores PLC BN1 4JA
007 Unit 2 Peacocks Stores PLC BN1 4JA
008 Unit 2 Peacocks Stores PLC BN1 4JA
008 Bon Marché Ltd (ladies wear) BN1 4JA
009 Alliance & Leicester Bank BN1 4JA
010 Nobles Amusements / Sun-tanning Studio BN1 4JA
011 Fabulous 99p (discount store) BN1 4JA
012 The Cowley Club BN1 4JA
013
Oxfam BN1 4JA
014 Thomsons BN1 4JA
015
016 Abbey National BN1 4HY
017 Costa Coffee BN1 4JA
here is

Ann Street

(leading to Ransoms, St Bartholomew's Church and Sainsburys)
018 The Car Phone Warehouse BN1 3FP
019 British Heart Foundation BN1 4JB
020 Clinton Cards BN1 4JB
021 Help The Aged BN1 4JB
022 KFC BN1 4JB
023 KFC BN1 4JB
024 M & B Meats BN1 4JB
025 The Money Shop BN1 4JB
026 Subway Takeaway BN1 4JB
027
Former Woolworth building BN1 4JB
028 Former Woolworth building BN1 4JB
029 Former Woolworth building BN1 4JB
030
Former Woolworth building BN1 4JB
031
Former Woolworth building BN1 4JB
032 Swinton Insurance BN1 4JB
033 Shu-Time (footwear) BN1 4JB
034 Natural Nails (Nail Art, Waxing, Sunbeds) BN1 4JB
035 The Bystander Café BN1 4JB
036
Coral (betting shop) BN1 4JB
037 British Books Sussex Stationers BN1 4JB
037a British Books Sussex Stationers BN1 4JB
038 Monarch AmusementsBN1 4JB
039 Dollond & Aitchison Opticians BN1 4JB
040 Printing Com BN1 4JB
041 National Westminster Bank PLC BN1 4JD
042 National Westminster Bank PLC BN1 4JD
043 Superdrug Stores BN1 4JD
044 Superdrug Stores BN1 4JD
045 Smokemart (newspapers) BN1 4JD
045a Gamestar BN1 4JD
045b Scope BN1 4JD
046
Poundstretcher BN1 4JD
047
Poundstretcher BN1 4JD
048 Age Concern BN1 4JD
049 Enterprise Video Exchange BN1 4JD
050 Professional Photographers BN1 4JD
051 Laviva Café (takeaway) BN1 4JD
052
Branch Tavern BN1 4JD
053 Branch Tavern BN1 4JD
here is

York Hill
054 Richer Sounds BN1 4JE
055 Betfred (bookmakers) BN1 4JE
056 Briant Communications BN1 4JE
057 Pizza Flame Takeaway BN1 4JE
058 Pizza Hut BN1 4JE
059 Les Smith BN1 4JE
060 The Hogs Head BN1 4JE
061 The Hogs Head BN1 4JE
062 The Brighton Seabake BN1 4JE
063 Robert Harding Computers BN1 4JE
064 Oddbins Ltd BN1 4JE
065 Maplin Electronics BN1 4JE
066 Maplin Electronics BN1 4JE
067 Hove YMCA BN1 4JE
068 American Fashion Nails BN1 4JE
069 Audio T BN1 4JE
070 Office Furniture Centre / Tanning Oasis BN1 4JE
071 Cartridge World BN1 4JE
072 Laminate Flooring Direct Ltd BN1 4JE
073 Laminate Flooring Direct Ltd BN1 4JE
074
here is

New England Road
London Road, Brighton (east side)
here is

Viaduct Road
075
Hare and Hounds Pub
090
Books and Music BN1 4JF
077 Mobile Phone Centre BN1 4JF
077b Habens Carter (Estate Letters) BN1 4JF
here is

Rose Hill Terrace

(original street has been blocked off at the east end by flats)
078
Techno Retail BN1 4JF
079
Patricia Florist BN1 4JF
080
Stitch Masters (Clothing Repairs) BN1 4JF
081 Curry Kitchen BN1 4JF
082 JK Trade-In (Second hand shop) BN1 4JF
083 Peewees BN1 4JF
084 City Gate Centre BN1 4JF
085 City Gate Centre BN1 4JF
086 City Gate Centre BN1 4JF
087
Former Bartholomew's Vicarage BN1 4JF
088 Methodist Church
089
John's Camping International BN1 4JF
090 John's Camping International BN1 4JF
091 Pound Sense Discount Store BN1 4JF
092 Action Bikes BN1 4JF
093
Action Bikes BN1 4JF
094
Former Coop Building BN1 4LB
095 Former Coop Building BN1 4LB
096
Former Coop Building BN1 4LB
097 Former Coop Building BN1 4LB
098
Former Coop Building BN1 4LB
099 Former Coop Building BN1 4LB
100 Former Coop Building BN1 4LB
101
Former Coop Building BN1 4LB
102
103
here is

Baker Street

(leading to Ditchling Road and The Level)
104 Former Nationwide Building Society (old) BN1 4HF
105 Holland and Barrett (Health Foods) BN1 4HF
106 Pineapple Fruit & Veg BN1 4HF
107 Party Time BN1 4JG BN1 4HF
108 Party Time BN1 4JG BN1 4HF
109 Principal Meats BN1 4JG
here is

Marshall's Row

(leading to The Open Market)
110 Brighton Sony Centre BN1 4JG
111 Greggs Bakers BN1 4JG
112 Greggs Bakers BN1 4JG
113
Forfars The Bakers BN1 4JG
here is

Francis Street

(leading past the south side of The Open Market to The Level)
114 HSBC Bank PLC BN1 4LJ
115 HSBC Bank PLC BN1 4LJ
116 Snoopers Emporium BN1 4JG
here is

Oxford Street

(leading to Ditchling Road and The Level)
117 Nationwide Building Society BN1 4JG
119
Boots The Chemists (note: address 119 London Road) BN1 4JH
119
Somerfields (note: address 119 London Road) BN1 4JH
120 Somerfields BN1 4JH
121 Somerfields BN1 4JH
122 Somerfields BN1 4JH
123 Somerfields BN1 4JH
124 Somerfields BN1 4JH
125 Somerfields BN1 4JH
126 Somerfields BN1 4JH
127 Somerfields BN1 4JH
128 Somerfields BN1 4JH
129 Somerfields BN1 4JH
130 Somerfields BN1 4JH
131 Somerfields BN1 4JH
132
119
Rileys Pool Snooker Poker Club (note: address 119 London Road) BN1 4JH
here is

Oxford Place

(leading to Ditchling Road and The Level)
133 Coop Funeral Services BN1 4JH
134 BrightHouse Furniture BN1 4JH
135 BrightHouse Furniture BN1 4JH
here is

Brunswick Row

(leading to Ditchling Road and The Level)
136 Sketchley Retail / Johnsons BN1 4JH
137 Sketchley Retail / Johnsons BN1 4JH
138 Thomas Cook Ltd BN1 4JH
139
MacDonald's restaurants BN1 4JH
140 Macdonald's restaurants BN1 4JH
141
Buzz hairdressers
142 Halifax BN1 4JH
143
Halifax BN1 4JH
here is

Queens Place

(leading to Ditchling Road and The Level)
144 Brighton Housing Trust / Mental Health project for the Homeless BN1 4PH