Richmond D'Aubigny and Lennox Roads
Richmond, d'Aubigny and Lennox Roads
Royalty do things on a differently to the rest of us. When Charles II had a son by Lady Louise de Penancoet de Keroualle he was not her husband. But illegitimacy should not be a barrier to the future prosperity of a son of the king, so Charles granted him an English dukedom (Richmond) and a Scottish one (Lennox). The second Duke of Richmond was born on the English estate (Goodwood, near Chichester) and also received a third dukedom – in France this time – Duc d'Aubigny.
All this was way back in the early 18th century, and Round Hill was just open fields then.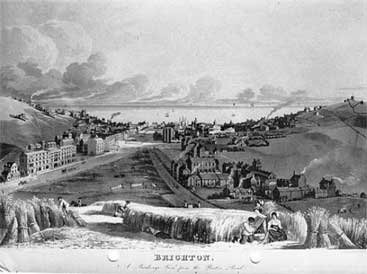 View of Brighton 1819, drawn by J Cordwell, engraved by D Howell August. This field of wheat is Round Hill.
But the 4th Duke had 14 children, 8 of them male. They couldn't all take over the family estates, so the second son – Lord John George Lennox – became an MP, initially for Chichester, then Sussex and later West Sussex, spanning the years 1819 to 1841. This must have had him moving about more, and gave him a better Brighton connection. He had 4 children including two sons, who became Major General Frederick Francis Lennox who married twice and had seven children. His younger brother rose higher in the army, but more importantly for this story is buried in Woodvale cemetery. He was General Sir Wilbraham Oates Lennox. Born at Goodwood in 1830, lived at East Pallant House, Chichester where he was a Justice of the Peace.
He also had a military career with the Royal Engineers, and won the Victoria Cross at Sevastopol during the Crimean War. He fought all over Europe between 1854 and 1877, married twice and had seven children. He died in London in 1897. So why is he buried in Brighton?
General Sir Wilbraham Oates Lennox VC KCB RE (from a portrait in the Royal Engineers Museum)
Whatever the reason, the developers of Round Hill saw a sufficient connection to the Lennox family to plan roads here named after their three principal estates – Richmond, Lennox and D'Aubigny.
You may have missed Lennox Road, but not if you have read the story on page 4, where it is shown on the map – planned, but never built. The Victoria Cross Trust is trying to raise £25k to restore the family grave. The Trust observes that the present Duke is unaware of the family connection, and no offer of financial assistance has been forthcoming.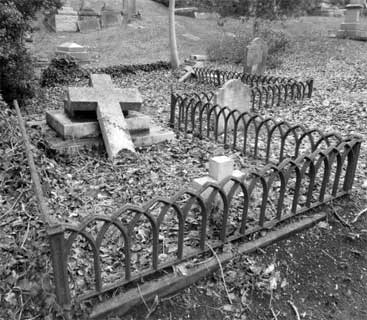 The Lennox Family plot at Woodvale cemetery.