by David Guest from
The Round Hill Reporter September 2008
The James Gray Collection: a unique catalogue of life in Brighton
James Gray (1904-1998) was a local collector who, in the 1950s, chanced across some annotated antique photographs of Brighton's Western Road
This accidental discovery sparked a lifetime's passion for collecting photographs of Brighton's streets. Over the ensuing decades, Gray built a collection which grew to encompass nine thousand images of the area, from Rottingdean to Hove, between the sea front and the South Downs.
This unique catalogue charts the changes defining the development of Brighton and Hove from a small fishing town to the vibrant sea-side city of today.
Spread across thirty-nine volumes, he collection also includes images areas close to Round Hill, including London Road, Lewes Road and Sylvan Hall.
On Gray's death, this remarkable collection was purchased by The Regency Society who plan to make as many of the photographs as possible available for the general public. At the moment, they are mid- way through a project to scan all of the images so they can be published online for easy reference by students of Brighton's local history.
The Society are now appealing for donations to help with this work. More information, including some of the images already scanned, is available on the Society's website:
James Gray, 1904-1998, was a local collector with a passion for the streets of Brighton and Hove, and, as time went on, further afield.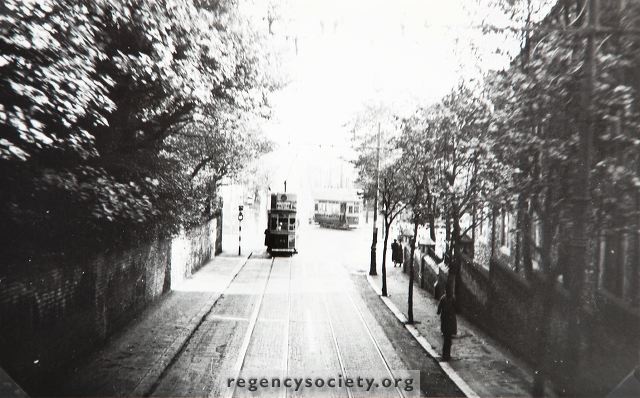 Go to
The Regency Society's - James Gray website
to see many more historical photographs in this collection.
Who was James Gray?
Working all his life in insurance, his initial collection of stamps gave way to local topographical photographs with the chance acquisition in the 1950s of a few images of Western Road. From then on he built up a massive collection: many of the entries are copies, exchanged with other collectors, others are views that he purchased or, more recently, that he commissioned.
Although there is today a strong general interest in old photographs, both for their factual content and also for their artistic value, when James Gray started his collection there was little:we must be grateful that he had the foresight and the single minded dedication to assemble this unique record of our City.
Upon his death, the Regency Society purchased the collection, and has now digitised it and made it available on-line. There are 39 Volumes in all.
Does the collection feature Round Hill?
Volume 20
includes content on Ditchling Road and the surrounding area, and includes a few photographs in & around Round Hill. Here are some, which you can access directly by clicking on the links below:
Links to photographs of our area
Tower Mill, Ditchling Road
Round Hill's windmill, worked by steam power after it was built in 1838, and used in the construction of the red brick houses in Belton Road after its demolition in 1913 .
Wakefield Road in 1949
with clear pavements and scarcely a car in sight
Crescent Road and lower Princes Crescent in 1933
with Wakefield Villa (by this time known as Woodfield Lodge) in the background.
Sylvan lodge in 1976
one year before the old house was demolished and made way for Council flats.
31 and 32 Wakefield Road
the only houses on the west side of the street, photographed in 1963
Wakefield Road in 1963
Tram descending Ditchling Road
at the junction of Upper Lewes Road in the late 1930s
Looking down Ditchling Road
in 1949
St Saviour's Church (1), Ditchling Road
in 1982
St Saviour's Church (2), Ditchling Road
in 1982
The Open Market on The Level
in 1922
removal of the railings around The Level
in 1923
Steam train crossing Beaconsfield Rd viaduct
in 1930s