Wakefield Road in 1891
Click here to scroll to an alphabetical list of all the occupations.
A related article: Wakefield Road in 1871 will record when most of the houses were planned as well as the identities and occupations of some of the early occupants of Wakefield Villa, Rose Hill Villa, Sylvan Lodge and Rose Hill Cottage. It will also indicate the locations.
Practise using the Census data site e.g. study of Wakefield Road
At http://www.freecen.org.uk complete these fields ONLY:

Surname: Pelling
First name: Edgar
Census County: Sussex
Census Place: Brighton
Census Year: 1891

Click the SEARCH button
Select for all the information
Continue viewing data for more households in the same street (or one nearby) by clicking the or buttons
You will gather data on everybody living in Wakefield Road in 1891, including servants.
A known resident is Edgar PELLING of 19 Wakefield Rd (born in Sussex)
Another is Charles COX-DAVIS of 15 Wakefield Rd (born in Somerset)
Another is James VIGAR of 4 Wakefield Rd (born in Sussex).
The lets you fill in the street name. Take care to shorten "Wakefield Road" to "Wakefield Rd" (as above). The birth county is optional.
Who was living in your house?
There was even a Tricycle Maker living at 19 Wakefield Road very near to where "Dr Bike" lives now. See Street Play Dates for 2019.
Click on the housenumber to find the names and family relationships:
1 to 7
Undertakers Bearer, Ticket Writer, Plumber, Blind Makers Assistant, Scholar, Housekeeper, Laundress, Drapers Assistant, Dressmaker, Ironer, Scholars (3), Coachsmith, Scholar, Greengrocer, Goods Guard Station, Railway Engine Fireman, Laundry Packer, Fitters Labourer, Milliner, Widow, Scholars (3), Butcher, Gasfitters Apprentice, Scholars (3), Coal Porter, Laundress, Scholars (3), General Domestic Servant.
8 to 15
Bricklayer, Watchmakers Apprentice, Wood Turner, Cashier in Ironmongers, Scholar, Mechanical Engineer, Scholar, Widow, Cert School Mistress (2), Clerk Sussex Daily News (2), Dressmaker, Newspaper Publisher, Candidate Pupil Teacher, Heraldic Decorative Painter, Dressmaker (2), Engine Fitter, Scholar, Carpenter, Scholars (2), Draper's Porter, Grocer's Manager, General Domestic Servant, Lodging House Keeper, Private Means.
15 to 20
Chemists and Druggists Manager, Dressmaker, Private Means, Painter, Mantle Maker, Private Means, Dressmaker, Private Income, General Servant, Shoemaker, Tailoress (2), Butler, Gasfitter, Wheelwright, Scholars (3), Tricycle Maker, Dressmaker, Scholar, Printers Compositor, Laundress (2), Basket Maker, Scholars (4)
21 to 27
Dressmaker, Laundress, Traveller Wines / Spirits, Drapers Apprentice, Brewers Clerk, Auctioneers Clerk, Post Office Clerk, Scholars (3), Schoolmistress, Scholars (2), Spring Maker, Steam Engine Maker, Scholars (2), Locomotive Boiler Maker, Dressmaker, Coach Painter, Scholars (3)
28 -34 & 35
Railway Porter, Scholar, Hammerman Railway, Schoolmaster, Tailor, Scholars (2), Milliner, Musical Instrument Dealer, General Servant, Upholsterer, House Painter, Dressmaker, retired couple both aged 78, Coachman, Scholars (2)
Comments
Note the growing number of laundresses.
Also note the continuation of high numbers of jobs related to the railways.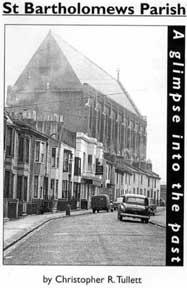 Arthur Wagner built many homes for railway workers and during the 1870s executed plans to build both St Bartholomew's church and St Martin's church on Lewes Road. He built the latter as a memorial to his father, Henry Mitchell Wagner, who was vicar of St Peter's Church Brighton.
Included in the area which St Martin's served was Round Hill. Notice that the census records list the Eccliastical Parish (in which Round Hill is included) as St Martin's. The Parish of St Martin's extended to the east side of Lewes Road.
The proximity of Lewes Road Station (both within Round Hill's D'Aubigny Road and accessible from Lewes Road) and the nearness too of London Road Station (in the case of Wakefield Road) helped railway employees to get to work. Chris Tullet's excellent booklet (produced in 1999) remarks on the number of pubs in the vicinity of St Bartholomew's church with railway names. Opposite London Road Station, the former Railway Hotel, is now called The Signalman, though with new development and the difficulties of keeping pubs open, historical references are fewer now.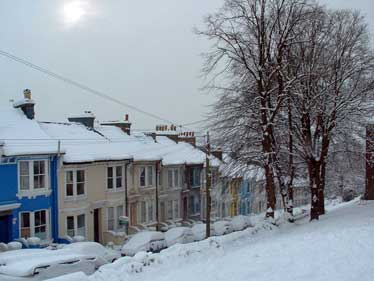 Jobs in the whole of Wakefield Road (1891)
Auctioneers Clerk
Basket Maker
Blind Makers Assistant
Brewers Clerk
Bricklayer
Butcher
Butler
Candidate Pupil Teacher
Carpenter
Cashier in Ironmongers
Cert School Mistress (2)
Chemists and Druggists Manager
Clerk Sussex Daily News (2)
Coachman
Coach Painter
Coachsmith
Coal Porter
Drapers Apprentice
Drapers Assistant
Draper's Porter
Dressmaker (10)
Engine Fitter
Fitters Labourer
Gasfitter
Gasfitters Apprentice
General Domestic Servant (4)
Goods Guard Station
Greengrocer
Grocer's Manager
Hammerman Railway
Heraldic Decorative Painter
Housekeeper
House Painter
Ironer
Laundress (5)
Laundry Packer
Locomotive Boiler Maker
Lodging House Keeper
Mantle Maker
Mechanical Engineer
Milliner (2)
Musical Instrument Dealer
Newspaper Publisher
Painter
Plumber
Post Office Clerk
Printers Compositor
Private Means or Income (4)
Railway Engine Fireman
Railway Porter
retired couple both aged 78
Scholars (42
Schoolmaster
Schoolmistress
Shoemaker
Spring Maker
Steam Engine Maker
Tailor
Tailoress (2)
Ticket Writer
Traveller Wines / Spirits
Tricycle Maker
Undertakers Bearer
Upholsterer
Watchmakers Apprentice
Wheelwright
Widows (2)
Wood Turner
Known occupants of Round Hill homes:
1871
1891
Details of the 15 laundries in Princes Road in 1891
Don't miss Sam Chittenden's play "CLEAN" based in Round Hill
Click here for Free Cen records (1891 & 1871) of Round Hill households (including the villas).