Conservation Area Protection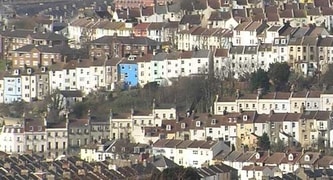 picture taken from Tenantry Down near Brighton Race Course
Round Hill was designated as a conservation area in 1977. Most of Brighton and Hove City Council's conservation area character statements highlight architecture.
However, what makes Round Hill's period architecture stand out are the vistas which run between the terraces i.e. its distinctive green ribbons which are integral to the original geometric design. This needs to be appreciated from afar (Woodvale and Tenantry Down on the other side of the valley) so it is important that views into the conservation area are not obstructed.
Likewise, long views out of the conservation area contribute to a feeling of space and well-being whereas in fact we are a very tightly knit community with a high population density - twice the average for outer suburbs in medium-sized UK cities.
An average of 2.3 per household when there are circa 1000 households within a land area of half a square mile yields a population density of 4,600 residents per square mile.
This article looks at both National and Local policies, which could be used to conserve what makes Round Hill truly distinctive. Sadly, Brighton and Hove City Council has been very reluctant to include private open spaces in its Urban Open Space surveys, so policies related to the natural environment are unlikely to be very useful. In practice (in spite of Government Guidance that open space assessment should be done irrespective of whether land is publicly or privately owned) our privately owned open spaces just aren't counted even though they offer visual amenity, act as green lungs, improve air quality and invite wildlife into our neighbourhood.
There is far more mileage in policies concerned with HERITAGE. That means that we need to emphasise that our "green ribbons" were part of a deliberate architectural plan, implemented by the Victorians who set out the plan of the Round Hill estate in the 1850s.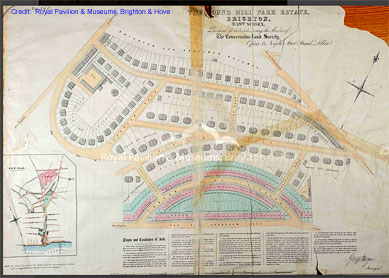 The geometric shapes inherent in the 1853 plan (above) are still intact, as my photos from the other side of the valley show.
The most precious green ribbon - the most important green spatial aspect of the original design of the neighbourhood - runs between Wakefield / Richmond roads to the north and Roundhill Crescent to the south.

This "jewel in the crown" could easily be ruined if the grant of permitted development were to be extended to large garden outbuildings. A row of annexes could remove the relief offered by greenspace and detract from the distinctive period architecture just as easily as permanent buildings. See policies HE 6 and HE 3 (below).
Previously developed ("brownfield") plots are the most vulnerable
The sites in Round Hill, which have proved the most vulnerable to new development, are those which were previously developed and therefore counted as "brownfield".
The west side of Mayo Road

, largely occupied by the Mayo laundry, was therefore previously developed. The laundry was demolished in the mid 1980s and replaced by 32 flats.
In the case of

the strip of land to the west of Crescent Road

, the development was sprawl from sheds and poorly built structures added onto laundries, though (as above) areas of drying fields were claimed too for new development.
Gardens were "previously developed" (and therefore vulnerable) under John Prescott, but became "greenfield" again under the coalition government in 2010
In the case, of the Carelet site (land to the rear of 67-81 Princes Road), we had to press hard to get The Council to agree that this was a greenfield site, though it is no longer. Six houses have been built.
Under John Prescott's tenure as Secretary for the Environment, gardens were not defined as "greenfield". Therefore, we had to demonstrate that the Carelet plot was a separate freehold from any of the nearby gardens.
However, the developer extended the application site by dividing the garden of 67 Princes Road into halves and adding 'the northern half of a garden' to 'the plot of previously undeveloped land'.
Councils can now stop garden-grabbing if they choose to do so
The number of houses being built on gardens rose from one in 10 to a quarter of new properties between 1997 and 2008. Happily, one of the first acts of the 2010 coalition government under Decentralisation minister Greg Clark [Communities and Local Government Department] was to give local councils immediate powers to prevent the building of new homes in back gardens. See Garden grabbing to be curbed. The Telegraph [9 June 2010].
The green ribbon running between Wakefield Rd / Richmond Rd and Roundhill Crescent consists of
[1] back gardens to houses as well as
[2] separate freeholds running across the parts of the middle.
Since Councils now have greater powers to protect gardens, if they choose to do so, differentiation between freeholds is no longer needed to argue "greenfield status".
A Victorian property contemporary to those in Wakefield Road is not a precedent for constructing new development on a green ribbon that forms part of a spectacular public view.
The setting of Fern Villa, the only house on this green ribbon (dating from 1879) has remained intact for getting on for 150 years. Fern Villa is contemporary with the late 19th century period properties in Wakefield Road and has never been accepted as a precedent for putting new development on Round Hill's best green ribbon, even though unsuccessful applicants have attempted to use it as such. Creating a building line from this period property by flanking it on any side with new development would set a precedent for infill.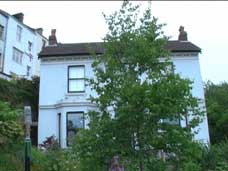 This could soon mean that the long views into our conservation area are much less pleasing and the geometric patterns carefully thought out by Round Hill's original designers less recognisable.

Policies protecting conservation areas
There would be no point in designating parts of Brighton and Hove as conservation areas, if permitted development rights were so liberal that they by-passed all the protections in the Council's strategy for the conservation of Brighton and Hove's historic built environment.
What are permitted development rights, how are they limited, and which areas are excluded?
See https://www.gov.uk/guidance/when-is-permission-required#What-are-permitted-development-rights and note the exclusions.
However, also be aware that one of the main instruments for protecting the Round Hill conservation area our Article 4 Direction has specific coverage:
"most Article 4 directions relate to the facades of buildings that face onto a street, public footpath or open space. Sometimes they cover alterations and extensions at the rear of a building or back garden."
Home owners who are not sure whether the type of work they are proposing (or work that has already taken place) does or does not require planning permission, may wish to apply for a Lawful Development Certificate (Proposed) or (Existing). Possession of these certificates make it possible for residents to prove to anyone, such as a prospective buyer, that building work they've done is lawful.
Residents (or prospective buyers!) can enter street names and application types into search fields on Brighton and Hove City Council's Planning Register to see which properties in their streets have had applications for Lawful Development Certificates APPROVED or REFUSED i.e. to test out whether claims of permitted development rights are deemed lawful by the Council.
Several residents in Round Hill have already applied for Lawful Development Certificates in relation to proposals for single storey rear extensions. Some of these applications have been APPROVED; others have been REFUSED, though sometimes a few modifications to plans can make them acceptable on re-application. Decisions can be found on the Council's Planning Register under the DOCUMENTS tab as well as the case officer's report, which specifies any factors which have resulted in refusal.
What is worth protecting in Round Hill?
Each of our city's 34 conservation areas has its own character statement, outlining what is being conserved. Disappointingly, Round Hill's character statement was last revised in 2005, but our Council has a limited budget and other priorities. We have to use the statement we've got!
There are spectacular long views into the Round Hill conservation area from Race Hill, Tenantry Down, many parts of Woodvale and several other public vantage points.
Accordingly Round Hill's Conservation Area character statement goes beyond an appraisal of our neighbourhood's period architecture by emphasising the heritage significance of our distinctive green spaces and vistas, which are on privately owned land:
An extract from: ROUND HILL'S
CONSERVATION AREA CHARACTER STATEMENT
SPACES AND VISTAS
Views of the conservation area can therefore be found from other parts of Brighton, particularly from Bear Road to the east and Race Hill to the south-east the curves and contours of streets like Round Hill Crescent are especially attractive.
.......
There are further green ribbons of land not visible from the street, which also define the unaltered Victorian street plan of the conservation area from a distance. The more southerly of these ribbons include some unusually large gardens which extend across the steep escarpment between the south side of Richmond Road and the north side of Round Hill Crescent.

It is in the long views of the conservation area that its greenness can be appreciated - a characteristic not evident from the streets within the area. There are no public open spaces and the only visibly accessible gardens are glimpses into private land from the stepped footway (known locally as a catcreep) which cuts steeply down the hill from the side of no. 2 Richmond Road to Round Hill Crescent. The green ribbons provided by private gardens and the railway remain valuable habitats for wildlife. Many of these linear green lungs originated as the breezy drying fields associated with Victorian laundries (away from the smoky town below), and the land attached to nurseries and small-holdings. These private back gardens contribute visual amenities to residents in this area, who do not benefit from the availability of communal parks or play areas nearby."
Current policies relevant to Heritage
The National Planning Policy Framework (NPPF)
Conserving and Enhancing The Historic Environment p54
National Planning Policy Framework [February 2019] states:
185. Plans should set out a positive strategy for the conservation and enjoyment of the historic environment, including heritage assets most at risk through neglect, decay or other threats. This strategy should take into account:
the desirability of sustaining and enhancing the significance of heritage assets, and putting them to viable uses consistent with their conservation;
the wider social, cultural, economic and environmental benefits that conservation of the historic environment can bring;
the desirability of new development making a positive contribution to local character and distinctiveness; and
opportunities to draw on the contribution made by the historic environment to the character of a place.
This part of the government's guidance has little changed since The National Planning Policy Framework (NPPF), published in March 2012. This states at paragraph 1.26 that "local planning authorities should set out in their Local Plan a positive strategy for the conservation and enjoyment of the historic environment, including heritage assets most at risk through neglect, decay or other threats". It was in response to the latter, that Brighton and Hove City Council produced their 2015 document:
A strategy for Brighton and Hove's historic built environment
As well as this, the Local Authority's policies relevant to heritage, especially conservation areas, are those present in
The Brighton and Hove City Plan Part 1 (March 2016) scroll to pages 197 and 198 for policy CP15 Heritage followed by six pages of policy CP16 on Open Space.
CP15 Heritage begins: The council will work with partners to promote the city's heritage and to ensure that the historic environment plays an integral part in the wider social, cultural, economic and environmental future of the city
CP16 Open Space begins: The council will work collaboratively to safeguard, improve, expand and promote access to Brighton & Hove's open spaces (public and private) and the diverse range of experiences offered by these spaces.
Events such as The Round Hill Society's Heritage Open Days Self-Guided Walk, held between 11th and 20th September 2020, may serve to raise awareness of the importance of our conservation areas "green ribbons", which really need to be viewed from afar.
Round Hill has no publicly-owned open spaces, except for its streets, yet areas of green space which are privately owned still offer visual amenity and environmental benefits without the assumption that the public will have access. The Council's open spaces strategy will remain flawed until there is recognition that public amenity does not always depend on access.
These City Plan policies exist side by side with policies retained from The Brighton and Hove Local Plan scroll to page 119:
Chapter 8 Managing change within an historic environment
HE1 Listed buildings
HE2 Demolition of a listed building
HE3 Development affecting the setting of a listed building
HE4 Reinstatement of original features on listed buildings
HE6 Development within or affecting the setting of conservation areas
HE8 Demolition in conservation areas
HE9 Advertisements and signs within conservation areas and on, or in the vicinity of a listed building
HE10 Buildings of local interest
HE11 Historic parks and gardens
HE12 Scheduled ancient monuments and other important archaeological sites.
Note: Policy HE6 has proved most useful in protecting our "green ribbons" to date. It has been quoted in decisions to refuse new residential development on land both sides of The Cat Creep.
See refusals: BH2006/01501 and BH2011/03323
Protection of trees in conservation areas
Felling or other work on trees in conservation areas also requires notification by letter 6 weeks in advance if the stem diameter (when measured at 1.5m above ground level) exceeds 75mm = circa 3 inches). The purpose of this legal requirement is to to give the Council's Arboricultural Service an opportunity to consider whether a Tree Preservation Order should be made in respect of the tree. See https://www.brighton-hove.gov.uk/content/leisure-and-libraries/parks-and-green-spaces/tree-preservation-orders.
Conclusion
Policies CP15 Heritage, supported by HE 6 Development within or affecting the setting of conservation areas together with the references under the heading SPACES & VISTAS within Round Hill's Conservation Area character statement are probably the best tools we have to protect Round Hill's distinctive green ribbons.
Policy CP 16 Open Space (private as well as public) ought to count too in a conservation area with no public open spaces, yet the policy goal of creating "access to open spaces" makes it an awkward one to apply to privately owned plots which owe their amenity value to their inaccessibility to human-beings while being havens for wildlife.
However, long views into conservation areas from public vantage points (as opposed to views from private gardens) form a valid basis for comment. As long as policy HE 6 from The Brighton & Hove Local Plan of 2005 is retained, this is the best tool we have for protecting the visual amenity and environmental benefits offered by Round Hill's green spaces.
Note that if a planning committee feels minded to refuse a planning application, normally they list a raft of policies (not just one). The inaccessibility of these open spaces (e.g. difficulties of access from the street for disabled or elderly people) is likely to come under scrutiny, as is the difficulty of managing waste (both refuse & recycling collection and drainage & sewage). Travel requirements (ineligibility for onstreet parking, yet inaccessible from the street for bicycle use) may also offer grounds for refusal.
Inaccessibility may account for why these open spaces have remained both visually attractive and intact (i.e. as green lungs: areas of green, rich in trees and vegetation) since the 1853 plan for Round Hill was implemented.
Picture: one view of Round Hill from Tenantry Down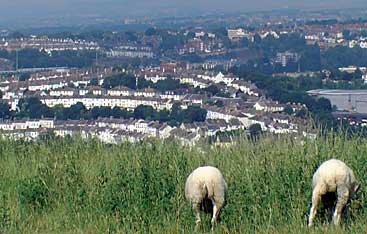 See also: