Open Market 2014
The history of the Open Market
Opening Ceremony 2014
Video clip [2 min 19 sec]:
Opening ceremony by the Lord Lieutenant of Sussex
Preliminary Speeches
Cllr Brian Fitch (the Mayor), Victoria (Brighton Open Market Community Interest Company), Pat Mears (trader) and Jason Kitcat (leader of BHCC)
Video clip [3 min 19 sec]:
Preliminary speeches by those involved in the project
Art Trail around Brighton Open Market
The community of artists in residents held this event in May 2015 as part of Artists Open Houses 2015. The event publicity remains useful since it documents how the artists' studios in the Open Market are used and including courses and activities which are regularly on offer.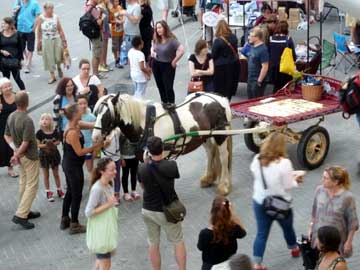 The official Brighton Open Market website is at http://www.brightonopenmarket.co.uk.
It has its own illustrated Meet The Traders page at http://www.brightonopenmarket.co.uk/permanent-traders
The Market Stalls [ units 1 - 44 ] 2018
Scroll to ground floor stalls on
scroll to artists studios (upstairs via steps or lift)
The stalls on the north side of the Open Market are
1 (west: London Road end) to 22 (east: Ditchling Road end)
Unit 1: available to let - retail or services
Unit 2: Real Patisserie
artisan breads, patisserie, savouries, sandwiches, and the greatest quiches! Everything is made from scratch here in Brighton and served as fresh as possible. Contact telephone numbers (for Brighton & Hove outlets). Meet the traders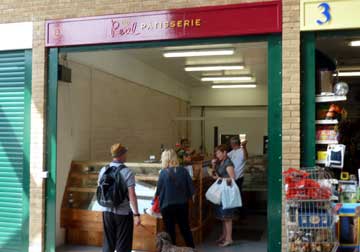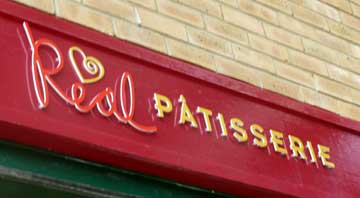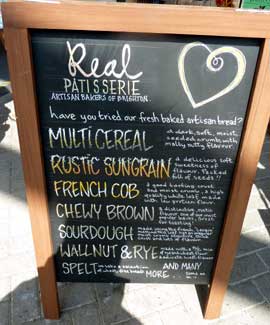 Unit 3: Pets Pantry:
based in the market for over 25 years, Tonia at Pets Pantry provides a wide range of pet food and accessories and offers free local delivery. Mob: 07986 420055 email: petspantrybrighton@yahoo.co.uk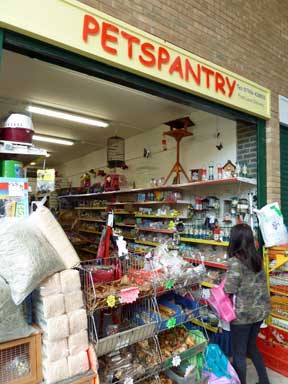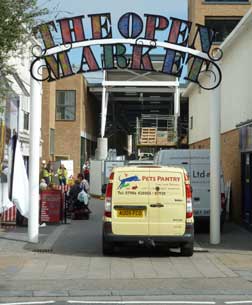 Unit 4: Market Florist:
cut flowers and plants and run by Yasmin and Andrew. Meet the tradeers. Tel: 01273 690726; email: marketflowershop@yahoo.co.uk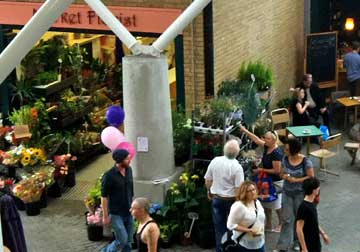 Unit 5: The Flying Saucer Cafe specialises in fine loose leaf teas and artisan coffee. A focus on local and organic produce including; juices, amazing cakes, gourmet sandwiches, pies, scotch eggs and freshly made ice cream. Meet the traders. Look out for collaborations award winning street food vendors. @brighton_saucer.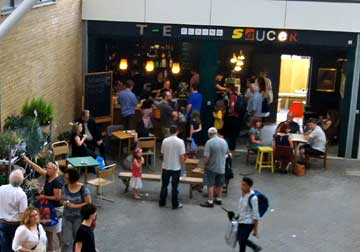 Unit 6: Brighton Apothecary herbal shop and advice centre is run by a team of dedicated and professional medical herbalists with a passion for using herbs to heal. Meet the traders. They provide advice and personally tailored remedies following a free mini-consultation, as well as high-quality natural health and beauty products. Mobile: 07477 886777; Email: brightonapothecary@gmail.com
Unit 7: Buttons and Bows Haberdashery:
John and Bob have been the market's haberdashers since the 1980s. They provide a wide range of haberdashery, crafts materials, fabrics, knitting yarns and much more.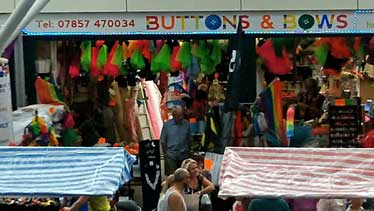 Unit 8: RADIO REVERB: Brighton community Radio station records live everyday from here . Check out the frequency
Unit 9: Wastenot is Brighton's only completely zero waste shop selling dried whole foods, cleaning liquid refills, loose organic fruit and veg and a huge range of plastic free beauty and home wares to help you reduce your impact on the world around you
Visit our Facebook Page.
Unit 10: Crystals & Cornucopia
Unit 11: Bea
Unit 12: The Fruit Bowl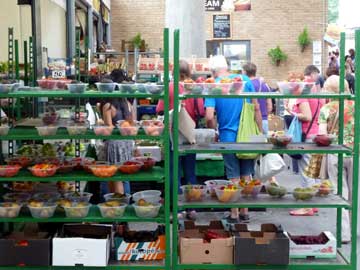 Unit 13: RAT & STRUMPET - Jack Hill:
Owned by Jack Hill, this stall sells vintage pieces, tools, leather British Rail guard bags, vintage cameras and accessories. Facebook info.
Units 14 & 15: Streets Café:
The Streets Café offers a traditional English breakfast as well as lunch, afternoon tea and dinner. The cafe caters for everyone including vegetarians, gluten free, calorie controlled diets, and children's meals.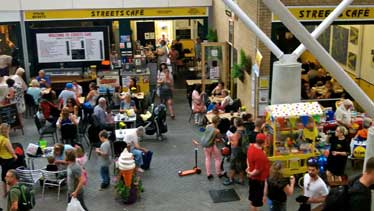 Unit 16: Giant Clothing Shop:
Hand picked American vintage & classic clothing.
Unit 17 Harry's Kitchen
Unit 18: 18 Grocery:
wholesale and retail Thai herbs, spices, Chinese, Japanese, Korean seasonal fruits and vegetables, dry foods, fresh produce and products from all over the world. Mobile: 07788912056
Unit 19: Mohammed – Spice of Life:
Chef Mohammed presents a range of his award-winning Bangladeshi and Indian subcontinent fresh, home-cooked chilled dishes; Bangla snacks, sweets and desserts; freshly mixed spices; groceries and Halal products. Mobile: 07985176812; Email: info@mohammedspiceoflife.co.uk
Unit 20: Baka Neko
We're an anime and gaming, Japan themed shop: Facebook site
Unit 21: Taquitos Casazul
UNIT 22: Smart Hair Extensions
The stalls on the east side of the Open Market are
23, 24, 25 at the east entrance near the bus stop opposite The Level
Unit 23: Available.
Unit 24: BEQUTE - babies' clothes shop.
Unit 25: Vintage and Vintage
The stalls on the south side of the Open Market are
26 (east: Ditchling Road end) to 44 (west: London Road end)
Unit 26: Rainbow Organic Chocolates - We are an artisan handcrafted chocolatier business which prides itself in using entirely organic ingredients which are sourced as locally as possible, and are seasonal.
Unit 27: Taylor Jaynes Beauty Salon.
Unit 28: Kodak Express
Unit 29: Om Things - clothing, gems and jewellery.
Unit 30: Smorl's Houmous Falafel and Salad Bar:
Home of Brighton's much-loved "Smorl's Houmous" range, Sarah and Christian offer freshly fried falafel, houmous and salad pittas, salad boxes, house-made sauces and relishes, organic cold drinks, as well as chick peas, falafel mix, pittas, olive oil and everything you need to make your own at home.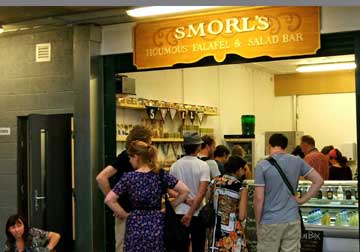 Unit 31: Green Valleys is a Brighton based company specialising in raw and natural honey products. Kris offers an ever growing selection of honey and honey-based products from Sussex and around the world. As well as being a natural sweetener, raw honey is also used for wellness and can naturally boost energy and build the immune system.
Unit 32: Kor-Pan
Traditional Korean and Japanese food including bibimbap and sushi, catering too for vegan and vegetarian. kor-pan@outlook.com Tel: 07553 244483
Unit 35: Washed-Ashore: - 'Washed Ashore - Brighton' is the name of a studio at Unit 35 The Open Market selling Brighton images on canvases, Cards , Calendars & much more !! Facebook site
Unit 36: McStrongs - a sausage roll lover's dream, 10 different flavours of mini handmade sausage rolls can be found, all encased in a golden all butter pastry. Flavours range from the American Breakfast (free range Sussex pork, smokey bacon & maple syrup) to Peking Pork (free range Sussex pork, hoisin sauce, green peppers & spring onion).
Unit 37/38: Dave Ovett & Sons:
the "Bacon King of Brighton" has been offering up eggs and local bacon – cut fresh every day – at the market for over 30 years!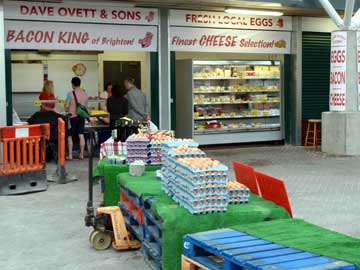 Units 39 & 40: Kouzina:
this Modern Rustic Greek speciality cafe offers delicious, healthy light meals including hot toasted Greek sandwiches, veggie moussaka, beautiful stuffed vegetables, Mediterranean salads, deliciously robust lentil and bean dishes, and 'mezze' plates – all lovingly prepared from locally-sourced, organic produce.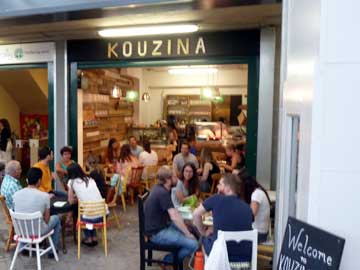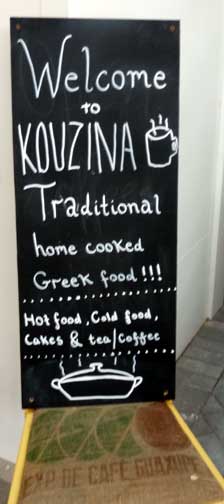 Unit 41: Stop, Look, and Listen - DVDs and collectable toys.
Unit 42: Jason's Egg Shop:
Jason has been trading in the Open Market for 28 years and has a range of locally produced eggs, and cheeses as well as dried fruits and bacon.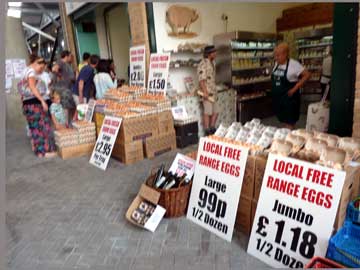 Unit 43: The Fruit Shop:
this old fashioned green grocer offers high quality at a fair price. 10% off to students and free delivery to local businesses.
Unit 44: The Laptop Chap
Unit 45: Studio 45
exhibits the work of a wide range of local artists
The Artists' Studios [ studio 1 - 12 ]
These are upstairs on the south side - take the stairs or lift:
1 (west: London Road end) to 12 (east: Ditchling Road end)
From the London Road Entrance:
A: The Specky Wren Opticians 1-2 Marshall's Row (nr London Rd Entrance):
Supports local artists and creative minds. We have year round art displays nestled in the shop alongside our glasses and a 6ft dragon fly carving perched outside above our doorway. For May's 2015 Artist Open House festival we have a myriad of art on show from a variety of local artists. The Specky Wren and Open Market will be a hive of creative energy. @speckywren #spectacleofart
B: Studio 45 Unit 45 (opposite the Specky Wren):
Studio 45 exhibits local artists, both established and new, contemporary and traditional, covering a wide variety of work including ceramics, stone, wood and metal sculpture, jewellery, original paintings and prints.
C: Unit 5: The Flying Saucer
The Flying Saucer will again be proudly illuminating 'Partially Obscured's' sumptuous, contemporary 'L ghtBOX' collection. This year, accompanied by the equally mesmerising and sometimes provocative work of Neon artist Darren West (pictured). Moving images will be projected onto a new 'micro cinema' on the wall outside the cafe.
D: The Artpothecary:
We are an independent Brighton based shop that sells creative materials to artists and makers. We stock materials for many different kinds of projects; from model making to sculpture, cosplay, theatre, film, special fx, fine art, mouldmaking, casting, animation, craftmaking, jewellerymaking... and we are always looking for more areas to cater for so please get in touch if you have any advice for us!
E: Open Arts:
an arts studio where we run weekly visual and performing arts courses and a Sunday pop-up gallery shop. The project is a unique collaboration between Autism Sussex, Grace Eyre and Impetus, designed to bring arts opportunities to people with Asperger's / Autism or learning disabilities. Every Saturday in May we will also have stall downstairs at the market, selling beautiful artwork and other produce made by Autism Sussex service users.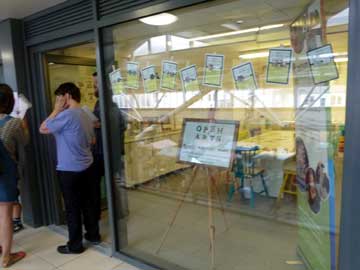 F: Studio Woody:
the market's illustrator-in-residence Woody (a.k.a Zara Wood). Expect to see art posters, limited edition screen prints, ethical fashion and design-led stationery.
G: Love The Rock Tattoo:
Appointment only tattoo studio.
H: Alison McGechie - Artist Maker:
An eclectic mix of 3D work inspired by the human form and hand-crafted in natural materials. Stone, wood, metal and ceramic sculpture; original pastel life-drawings; and hand-built ceramic vessels for home and garden. All work on show is for sale and private commissions are welcomed. See here for weekend demonstrations and week day workshops.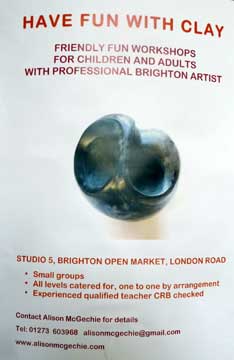 I: Partially Obscured:
Partially Obscured is run by Su Wilson a Glass Designer, Fabricator and Instructor with 20 years experience. From her workshop, Su produces her creations and teaches Glass Fusing and Slumping Courses. At the workshops, you will learn to cut glass to measured sizes. You will learn about different glass qualities, gather information for basic firing schedules, and work in a safe and creative environment. The workshops offer a wonderful introduction to the art of kiln-formed glass. You will work with a variety of Bullseye glass stock, known for it's rich colours from transparent to opal. Through tuition you will gain an understanding of how to manipulate the materials, techniques and processes to produce your own unique pieces. Using sheet glass, stringers (think glass spaghetti) and grit (grains of glass), you will be shown how to cut glass and add inclusions. Your creations will then be fired in "Kiki" the kiln and be ready for collection a week later or posted for a small additional charge.No prior glass experience is necessary, just a whole heap of enthusiasm! This course is designed to give you a taste into the vast opportunities' that glass kiln-forming can offer.
We've been designing, printing and creating original garments for our in house brand 'Pear Shaped Apparel' since 2007. We now stock a large range of independent brands from around the UK including A.IN.T, Stussy, Rebel 8, NICCE, ATG, Madina & Immune Ltd. We double up as a graphic design agency. Follow us for info: @pearshapeduk. Facebook page.
K: Sew fabulous Community Interest Company:
Our aim is to offer sewing classes for kids and adults that can be accessed by everyone... not just those with cash to splash. As we said before, we are now registered as a CIC ( community interest company) . This basically means that any profits we make go back into the business in order to make that aim a reality. Sewing is an incredibly useful and valuable skill to possess, and the fab TV programme The Great British Sewing Bee has helped to make it a popular pastime once again. We want to build on that and offer really useful learning to all... and especially to people who may not be able to access that learning due to financial hardship or personal circumstance. Email: sewfabhq@gmail.com
L: Oh! Studio:
At Oh! Studio every design is inspired by a special life experience and provides a unique way to tell your personal story. Oh! Studio illustrate each of their designs by hand. Now a collective of illustrators they are staging an exhibition of contemporary illustration inspired by Brighton. There are prints, objects and cards for sale by Oliver Hydes, Lizzie Bass and Rob Wills.
Views of the gallery (access: stairs or lift)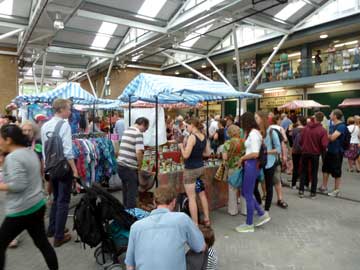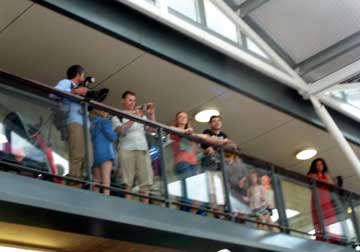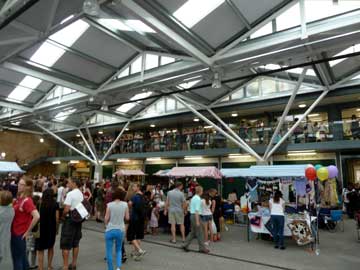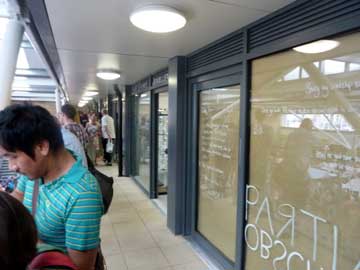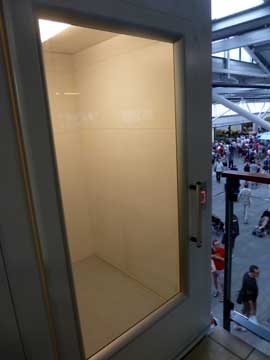 Performances
Video clip [1 min 42 sec]:
The Hullaballoo Community Quire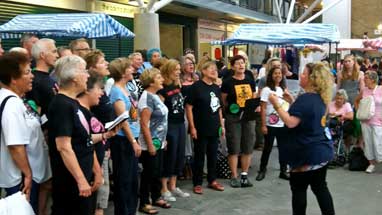 Video clip [3 min 36 sec]:
Brighton Lindyhoppers dancing to jazz swing band Harry's Tricks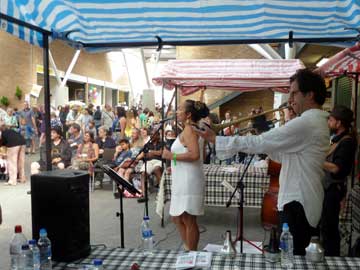 Opening Ceremony
Video clip [2 min 19 sec]:
Opening ceremony by the Lord Lieutenant of Sussex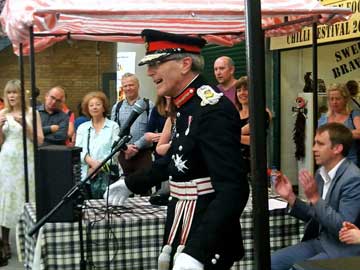 Preliminary Speeches
Cllr Brian Fitch (the Mayor), Victoria (Brighton Open Market Community Interest Company), Pat Mears (trader) and Jason Kitcat (leader of BHCC)
Video clip [3 min 19 sec]:
Preliminary speeches by those involved in the project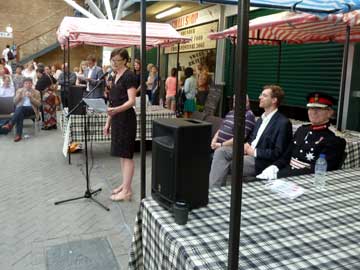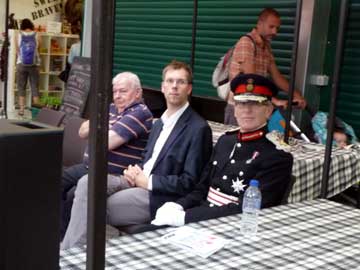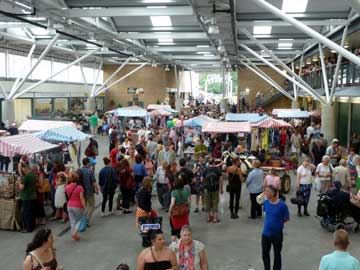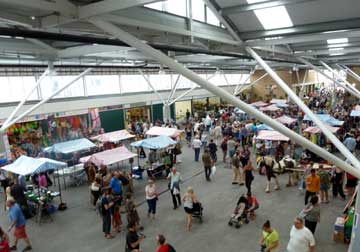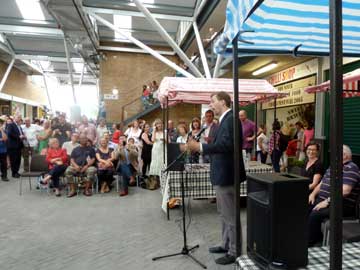 Links
Official website: www.brightonopenmarket.co.uk
Open Market re-opens in Brighton [Brighton & Hove News]
Roll up for a stall in the Open Market
On the hunt for traders for Brighton's Open Market [The Argus]
Ethical Property and stalls in Brighton's Open Market.
Ethical Property and workshops in Brighton's Open Market
Background to the redevelopment of Brighton's Open Market
Art Commission - Open Market Gateway