Round Hill Green Spaces News
The man from the council he said 'Yes' (but...)!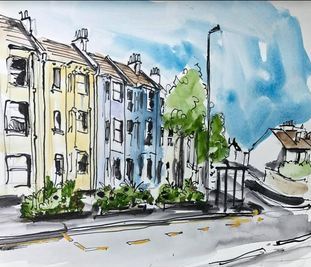 Illustration by Peter Gates
In the December issue we reported on the slowly turning wheels of our project to make Round Hill a little greener and more pedestrian-friendly, with the first step being a 'pocket park' at the southbound bus stop in Ditchling Road. But now we have lots of good news to greet the Spring.
On 20 January we hosted a visit from Mark Prior, the Assistant Director of Transport and two other senior members of the transport team. Two of our councillors, Pete West and Sue Shanks, came along to lend us support, as did another councillor, Steve Davis, who co-chairs the council's Environment committee. You might have seen this crocodile of officialdom, and the three of us, wending our way from the bus stop to the bollards at the Richmond/Mayo junction.
And the outcome? We're delighted to say that Mark gave his agreement to our pocket park plans for the bus stop.
Of course, it's not as simple as that and there are now lots of questions and actions needed before we can go ahead liaising with other teams such as Arboriculture; confirming if we need planning permission; and getting a license to define the location and what we're allowed to do. But essentially this is "Go" and everyone we've encountered has been very supportive. Let's hope it doesn't take too long.
We're excited that Brighton Buses and Clear Channel are also on-side with the idea of incorporating a bus shelter with a living, beefriendly roof and Brighton Buses will give us £1,500 towards our costs.
Our councillors Pete and Sue have each pledged £500 from their ward funding and we may be able to get some council funding that's specifically for pocket parks. We're also now going to get on and fundraise from other sources.
'Liveable Neighbourhood'
We also discussed with our visitors our next objective - to get Round Hill included in the roll-out of 'Liveable Neighbourhoods'. You may remember that this is being piloted in Hanover & Tarner and the central aim is to make residential areas safer for those on foot and reduce through traffic (i.e. rat runs). This might include changes to road layouts, such as use of bollards or narrowing dangerous junctions. We were recommended to take a formal deputation requesting Round Hill's inclusion to the next Environment Transport & Sustainability committee on 15 March and our councillor Pete West will present that for us. For all these issues we will of course be arranging opportunities to fully share with you our plans and we hope that you support our vision for a greener more pedestrian-friendly Round Hill.
Formal Deputation to ETS Committee (15th March 2022)
Read the text of the formal deputation (PDF)
Round Hill Green Spaces
We are Jane Power, Dominic Furlong and Kate Rice.