Wakefield Rd Traffic Options
The Traffic Information section documents the text of a consultation offered by Brighton and Hove City Council in August 2004 to Round Hill residents.
Princes Crescent and Wakefield Road were experiencing increased volumes of traffic, including rat-runners, following the London Road Area changes and the subsequent installation of bollards at the Richmond Road / Mayo Road junction (closure decided on 15 September 2000). Four options were offered to address these knock-on effects.
In August 2004, Round Hill residents chose Option 4 "Do nothing".
Now, in 2021, following injury to a 10-year-old child by a car, there is good cause to offer what is suggested in the e-petition below:
Click here to view the finished e-petition asking the Council to
(1) introduce traffic-calming measures, such as speed bumps;
(2) review the 20mph road markings and signage along Prince's Crescent and Wakefield Road;
(3) station a mobile vehicle-activated warning sign along the route; and
(4) deliver the report into the narrowing of the junction of Crescent Road with Prince's Crescent, promised by the ETS Committee in October 2019 in response to a request by Round Hill residents to improve pedestrian safety.
The e-petition was presented to The Council's Environment, Transport and Sustainability Committee at their meeting on 16th November, 2021. Read the report of this meeting and the proposal that Round Hill be considered as a low-traffic neighbourhood under The Council's liveable neighbourhood scheme.
Wakefield Road
Traffic Information
August 2004
Brighton & Hove City Council is seeking your views
Since the introduction of a permanent road closure of Richmond Road, (decided 15th September 2000) Brighton & Hove City Council has been monitoring the effect of traffic that has been displaced
 into adjacent roads. This has shown an increase in the traffic using Wakefield Road and consequently we are seeking your views, as residents and businesses, on what further measures, if any, could be implemented to reduce the impact of this. Please take time to look at the options and then return the attached questionnaire to
 Brighton & Hove City Council at the freepost address by Friday 3 September 2004.
Option 1

Wakefield Road one way up hill.

Introduce a "no-entry: at the junction with Princes Crescent.

This will reduce the amount of traffic using Wakefield Road insteard of Ditchling Road and Upper Lewes Road but may lead to longer journeys for some residents

Option 3

Traffic calming.

Introduce series of road humps.

This will reduce the speed of traffic but may not reduce the volume of traffic. It will not affect journey lengths for residents.

Option 2

No left turn.

Introduce a "no left turn" at the junction of Upper Lewes Road.

Again this will reduce the amount of traffic using Wakefield Road but will reduce the need for longer journeys for some residents.

Option 4

Do nothing.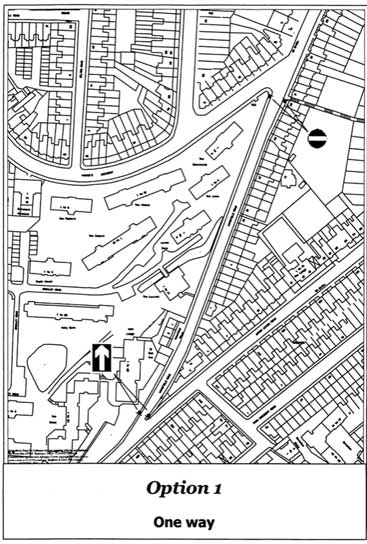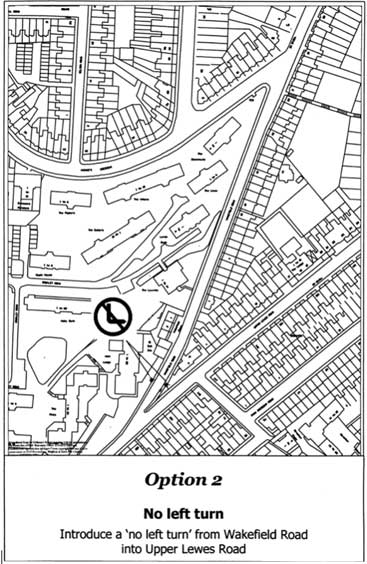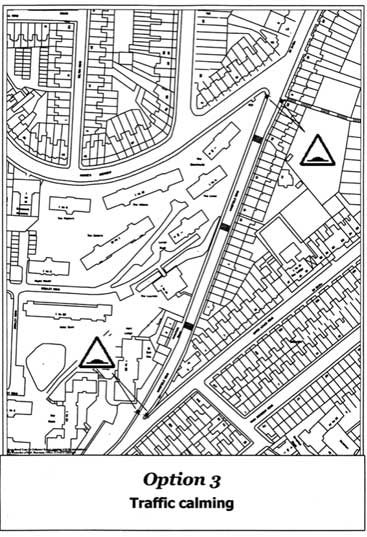 Printable PDF of the above [2004]
Click here for PDF of above BHCC consultation.
PDF of RHS's [May 2000] Traffic Survey
Click The Round Hill Society's May 2000 Traffic Survey form
Page 5 Rat-running on the increase
Page 6 The Round Hill Traffic Survey